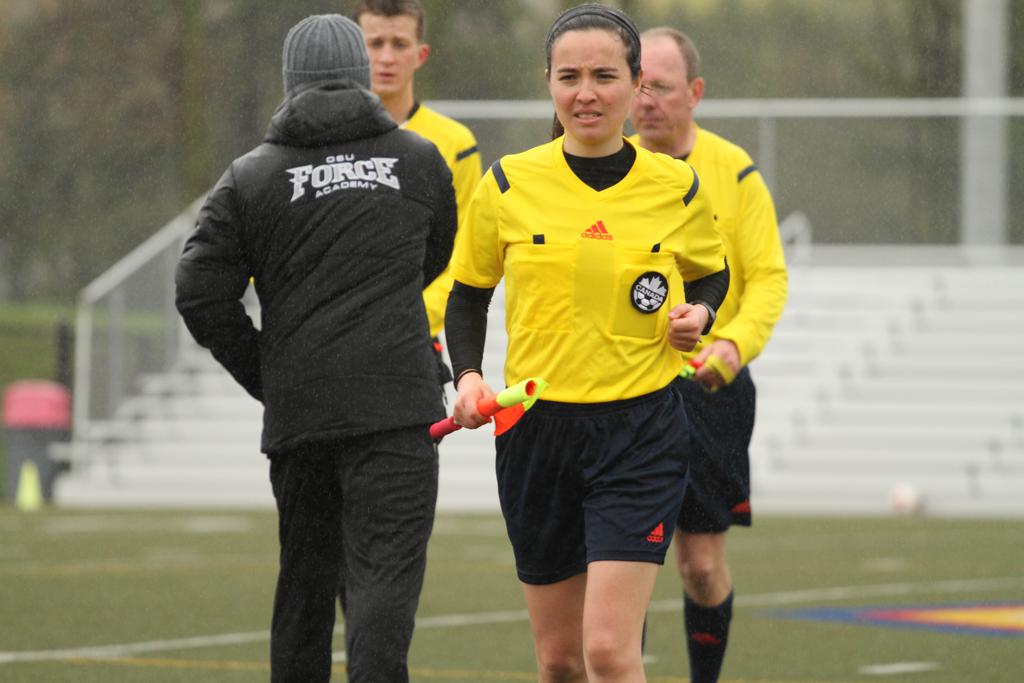 Why Referee?
Being a referee gives you a great opportunity to learn decision making and practice your people skills. OSU hopes you have fun refereeing and at the same time, earn some extra money.
How to Get Involved:
each year, OSU offers referee clinics for each level of the game. Registration for these mandatory clinics will begin sometime in winter each year. For details and further information, contacting our Club Head Referee is your best point of contact - referees@osu.ca
A Message from OSU's Head Referee
Our Club Goals - Summer Program
Further develop the mentoring/assessment program.

Attracting and retaining referees who are keen to help people enjoy the game;

Providing quality referee training through an initial OSA clinic and through a program of regular development meetings

Implement an "on-call" system to reduce referee no-shows to 1% or less;

Considering concerns and complaints received about referees, players, coaches and spectators and taking notice of ideas that can improve the way we referee;

Giving most work to the referees who display the preferred behaviors;

Continue paying referees fairly and promptly;

Fostering a state of mind in referees that balances applying rules with the satisfaction of helping others learn and have fun;

By sharing our referee goals with coaches and making our expectations for their support and encouragement clear in advance of the season.
Referee Neighbourhood Requirments: OSU is currently requiring Referees to officiate Youth House League games in the following areas: Barrhaven, Osgoode, Manotick, Kars, Riverside South, Greely, Rideau Forest and Metcalfe. For information, send an email to: referees@osu.ca
Referee Assignments:
Once referees obtain the required courses and designation, an input their availability in the clubs referee assigning system, then they will be eligible to be assigned games.The club head referee or referee assignor at his / her discretion will assign games to referees as he or she see fit.
Referee Code of Conduct:
Referee Code of Conduct:
To ensure a safe environment for all Soccer participants, referees have been given special responsibilities and are therefore expected to act with professionalism and courtesy at all times.
There is an OSA Board approved "Code of Conduct" for Ontario Referees contained in the following document:
1.1 Game officials having certain privileges through and by The Association, with respect to the game, shall realize and respect their responsibilities and duties to The Association and the game.
The Association endorses the Canadian Soccer Association's "Code of Ethics" for Game Officials.
Specifically Game Officials shall:
Conduct themselves with dignity both on and off the field of play and shall, by example, endeavour to inspire the true principles of fair play and earn the respect of those whom they serve;

Not cause OSU to become involved in any controversial matters and shall abide by the rules and regulations of the jurisdiction in which they officiate;

Adhere to all standards and directives;

Always be neat in appearance and maintain a high level of physical and mental fitness;

Study the Laws of the game and be aware of all changes, and shall enforce all said Laws and changes;

Perform their designated responsibilities, including attending organized clinics and lectures, etc., and shall assist their colleagues in upgrading and improving their standards of officiating, instructing and assessing;

Honour any appointments made for and accepted by them unless unable to do so by virtue of illness or personal emergency;

Not publicly criticize other officials or any soccer association nor shall they make any statements to the media related to any game in which they were involved;

Be subject to disciplinary action for not complying with this Code of Conduct.
Referee Responsibilities
enforce The Laws of the Game

controls the match in co-operation with the assistant referees and, where applicable the fourth official

ensures that any ball used meets the requirements of Law 2

ensures that the players equipment meets the requirements of Law 4

acts as timekeeper and keeps a record of the match

stops, suspends or terminates the match, at his discretion, for any infringements of the Laws

stops, suspends or terminates the match becuase of outside interference of any kind

stops the match if, in their opinion, a player is seriously injured and ensures that they are removed from the field of play

allows play to continue until the ball is out of play if a player is, in their opinion suffering from a minor injury which does not require immediate attention

ensures that any player bleeding from a wound leaves the field of play. The player may only return on receiving a signal from the referee, who must be satisfied that the bleeding has stopped.

allows play to continue when the team against which an offence has been committed will benefit from such an advantage and penalises the original offence if the anticipate advantage does not ensue at that time

punishes the more serious offence when a player commits more than one offence at the same time

takes discplinary action against players guilty of cautionable and sending-off offences. They are not obliged to take this action immediately, but must do so by when the ball goes out of play

takes action against team officials who fail to conduct themselves in a responsible manner and may at their discretion, expel them fromthe field of play and the immediate surroundings

acts on the advice of the assistant referees regarding incidents which they have not seen

ensures no unauthorized persons enter the field of play

restarts the match after it has been stopped

provides the appropriate authorities with a match report which includes information on any discplinary action taken against players, and/or team officials and any other incidents which occured before, during or after the match